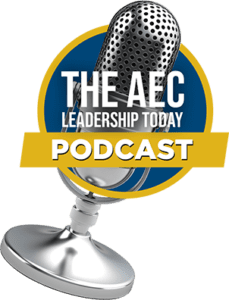 Search for other episodes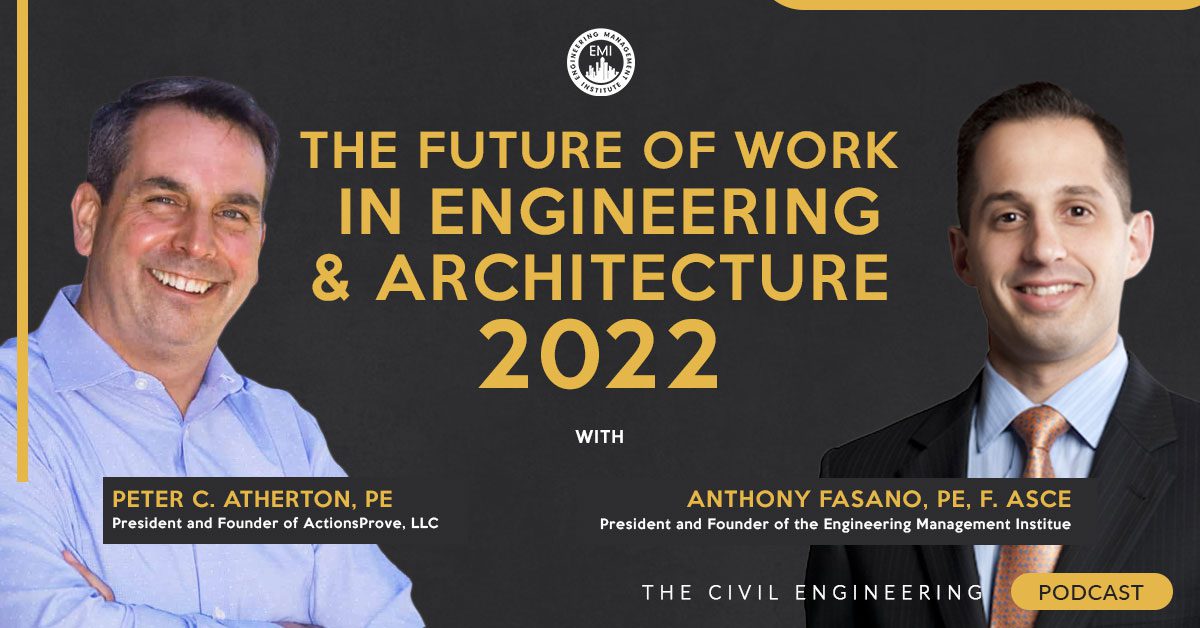 Today's episode of the AEC Leadership Today podcast is another special joint episode in partnership with Anthony Fasano and the Civil Engineering podcast. Anthony and I have once again collaborated on an in-depth research study focused on the state of the AEC industry and talent market and how companies can compete in a fast-changing world. 
---
Breaking Down the 2022 Present & Future of Work in Engineering & Architecture Report
There's a lot going on in the AEC industry and in work and life overall. 
How best can we better understand, think about, and respond to the changes and the challenges before us? You're in the right place to know. 
This year's survey and report was purposefully designed to provide you and your team both the information and the insight needed to create and sustain the type of organization that better attracts, engages, and retains great talent – across age, gender, roles, and years of experience. 
Don't wait to learn more about what's needed now to position yourself and your organization for greater growth and prosperity.
You can download the report for free at www.futureofworkinaec.com and listen in now as we overview and begin to breakdown the 2022 Present and Future of Work in Engineering and Architecture Report!  
---
"Above all else, people want learning and development. They want career growth and support… and is a tool that will keep people there and will bring people to your company."
— Anthony Fasano, P.E.
---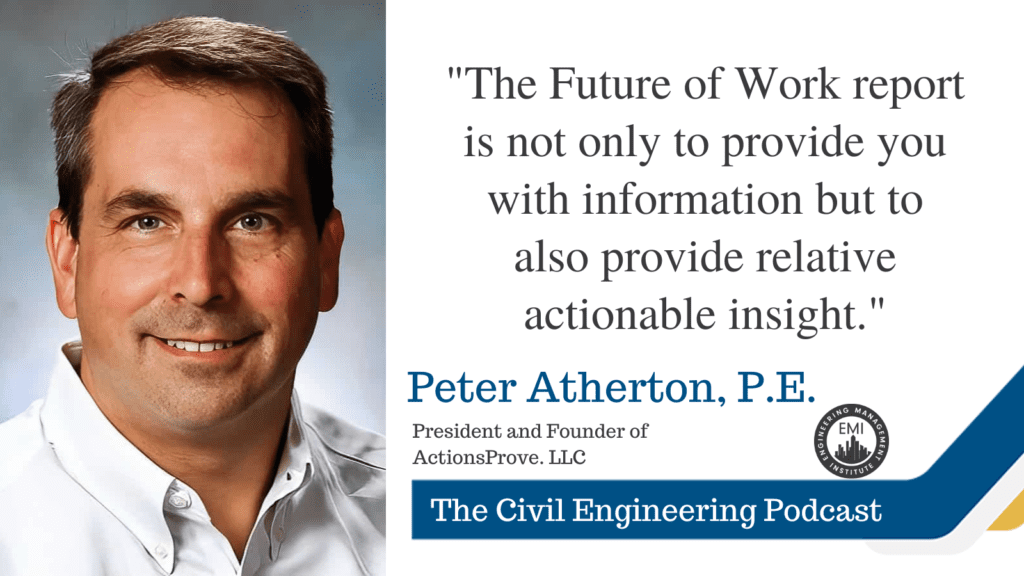 In this episode, we discuss:
The purpose of this year's study.  

The process for gathering the data required for the study and continued use of an expert third party survey and data analytics firm. 

How the Great Resignation isn't over yet, with 61% of survey respondents saying they would consider leaving their current employer for the right opportunity. 

The reasons for job turnover by generation – with career advancement, seeking a more flexible schedule, and compensation not being competitive being tops for newer and mid-career professionals… while high levels of stress, too much work for one person, not feeling valued at work, and ineffective leadership affecting those with 20 or more years of experience the most. 

How work stress is causing even more physical and mental health concerns across the board with 65% of this year's respondents reporting that work stress is affecting their physical and/or mental health, up from 49% last year.

Why hiring more people for most firms may only be

part

of the solution for combating increased workload and employee stress.

The statistics about burnout and why it's a big deal.  

The seven actionable directives for AEC firms and organizations highlighted in the report: 1) Understand that the Great Resignation is far from over; 2) Commit to training and development as a strategic asset; 3) Use a people-centric, data-driven approach to surface "hotspots"; 4) Consider quality of life as a crucial benefit in the employee relationship; 5) revisit the company's mission and vision; 6) strengthen hiring practices for more part-time and freelance professionals; and 7) Design a future of work that is above all flexible. 

Why investing in employee training programs is important for companies and the many levels of ROI. 

Why identifying employee "hotspots" and taking a people-centric approach can help companies better attract, engage, retain, and get the most out of employees… and how to begin to better think about, understand, and solve our biggest issues and opportunities in the most advantageous ways.

That there is

still

a gender gap in the AEC industry, with women citing more reasons with greater differentiation for why they're considering leaving their current employer. 

How if companies implement the report's seven directives, they will see improvements in their organization across the board. 
---
"The more nuance we have to have with our people, the more clear we need to be with vision, goals, and objectives for the organization, and the more clear we have to be with mission and values. Because only with that clarity can we get connection and be able to align someone's personal goals with that of the team, with that of the client, and with that of the organization… and be able to perform."
— Peter C. Atherton, P.E.
---
Times have truly changed and it's time to take a more informed and strategic people-centric, data driven approach to employee attraction, engagement, and retention. 
We hope the data, insights, and the seven directives for AEC employers presented in our report helps you create and sustain a more future-proof, dynamic, human-centered, and productive workplace. 
---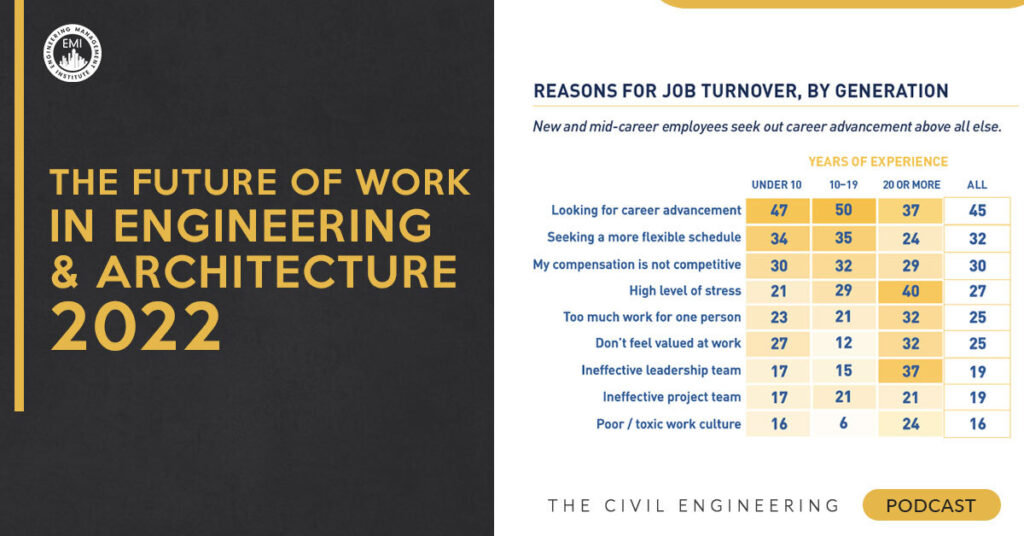 ---
About Anthony Fasano, P.E.
Anthony Fasano left his engineering career behind to focus on inspiring the next generation of engineering leaders. Since he made that shift in 2009, he has become a globally recognized TEDx speaker, host of three engineering podcasts that have been downloaded over 3 million times, and author of the bestselling book for engineers entitled Engineer Your Own Success: 7 Key Elements to Creating an Extraordinary Engineering Career (by IEEE-Wiley Press).
He is the founder of the Engineering Management Institute, which has helped thousands of engineering professionals develop their management and leadership skills, and he also created the Civil Engineering Media & Entertainment (CEMENT) network which provides free content to help civil engineering professionals develop their careers. Fasano is also the author of the popular ASCE Careers & Leadership Column: Ask Anthony. 
Fasano has also co-authored a series of children's books with his 11-year-old daughter titled Purpee the Purple Dragon. They have delivered hundreds of books to pediatric cancer centers around the world.
---
Peter C. Atherton, P.E.
See "About the Host" toward the bottom of this page.
---
Listen here to this powerful excerpt
---
Thanks for listening to the AEC Leadership Today Podcast!
I sincerely hope you enjoyed today's joint episode. Be sure to download your free copy of The 2022 Future of Work in Engineering & Architecture today. And if you like what you heard, please leave a review on iTunes and share the podcast with your friends and colleagues. Look forward to seeing you in the next episode!
---
Resources Mentioned in This Episode
---
Other Related Podcast Episodes 
Are you interested in being a guest?
How to help out
Please leave a review on iTunes, Spotify and Stitcher. They really help, so thank you.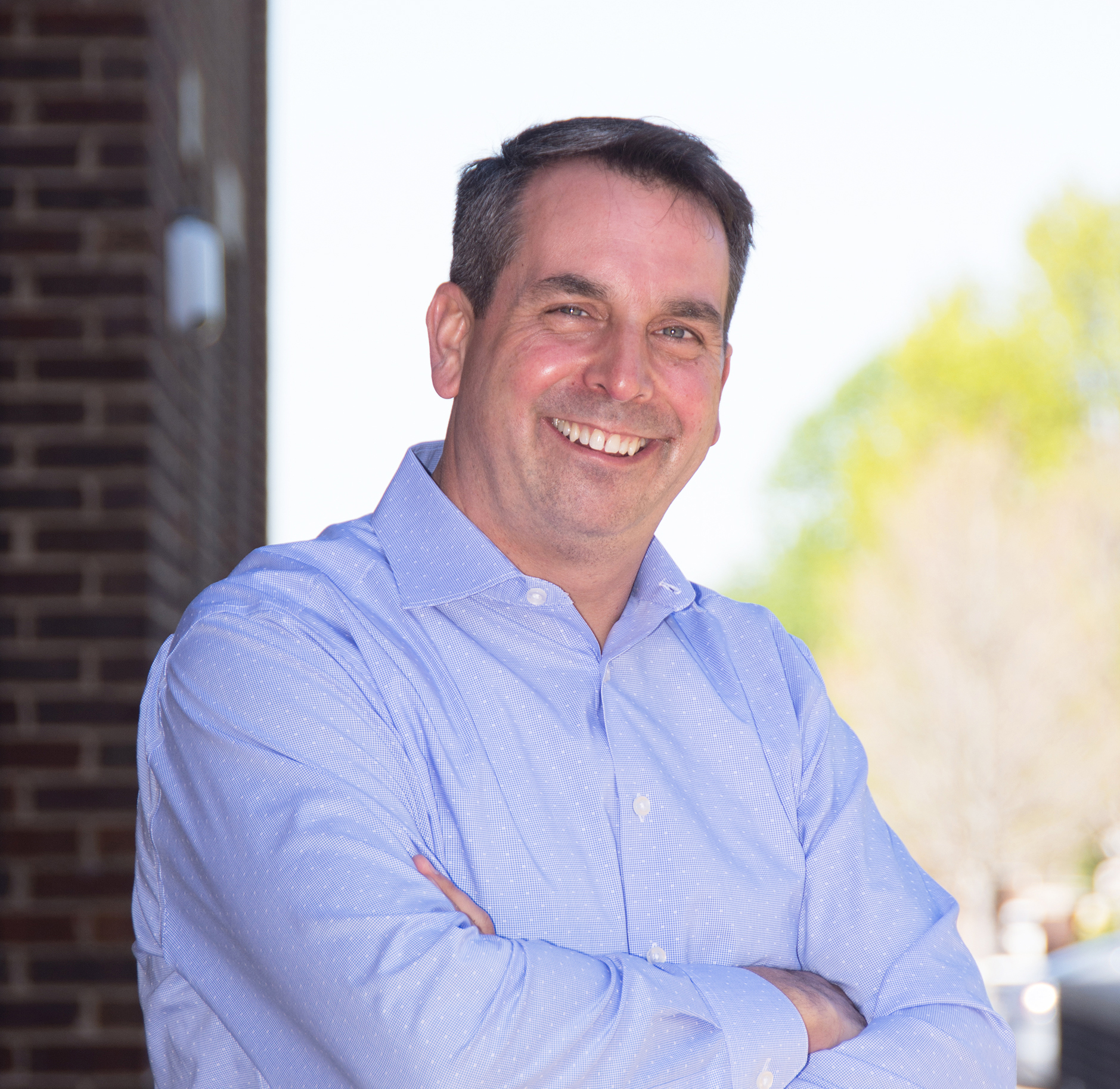 About the Host
Peter C. Atherton, P.E. is an AEC industry insider having spent more than 20 years as a successful professional civil engineer, principal, major owner, and member of the board of directors for high-achieving firms.  Pete is now the President and Founder of ActionsProve, LLC, author of Reversing Burnout. How to Immediately Engage Top Talent and Grow! A Blueprint for Professionals and Business Owners, and the creator of the I.M.P.A.C.T. process. Pete works with AEC firms and leaders to grow and advance their success through modern and new era focused strategic planning and implementation, executive coaching, leadership and management development, performance-based employee engagement, and corporate impact design.
Trace the steps to preventing and reversing burnout in you and your team.
Trace the steps to preventing and reversing burnout in you and your team.
Episode 087: Breaking Down the 2022 Present & Future of Work in Engineering & Architecture Report